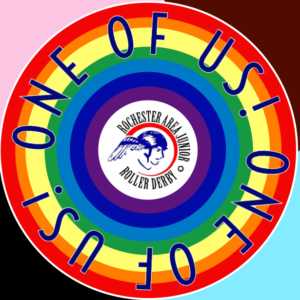 Need more information before registering? Visit this link for more information. Still need answers? Email morti @ rocjrderby . org and be sure both that email and RocJrDerby @ gmail . com are in your address book/contacts/safe sender list.
Tap or click the link to visit our online shop. You can see what merch is available (at least until our next order is placed), make a donation, or pay your skater's dues, all with the standard secure payment options.
Now enrolling for June Scrimmage nights, July and August Boot Camps and Summer Mini Clinics! 2023-2024 season registration coming soon!
Rochester Area Junior Roller Derby is the region's first team offering roller derby play and training to children and teens from 6-18. As a JRDA affiliated team, skaters learn the basics of safe skating as they work through their Level 1, 2, and 3 assessments in preparation for scrimmage and game play.
Flat track roller derby is a sport that involves various levels of contact depending on a skater's skill level. Skaters are regularly assessed on their knowledge of the game and skills in order to ensure they are ready to play competitively and be safe no matter which level they play.
Rochester Area Junior Roller Derby accepts new skaters anytime during the season until we reach capacity. Loaner gear is available for new derby enthusiasts to try the sport before committing to a whole gear setup. Scholarships may be available to cover the costs of dues. Contact us to find out about visiting or joining practice.